I wasn't the first to find that advert and unlike some other days that day I was late to see the post on the VOLT Facebook page. However on seeing that ad I knew there was something special about the orange 4×4 LT I saw.
​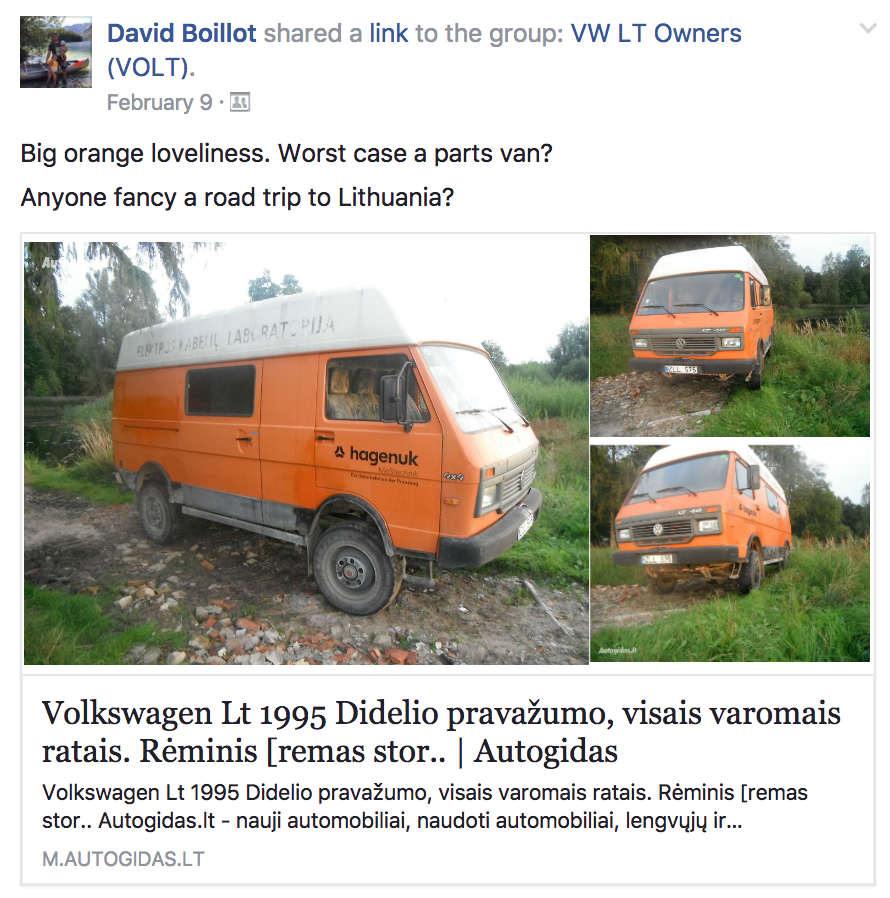 ​
David wasn't kidding when he suggested the road trip having brought his current 4×4 LT back on a trailer towed behind his wife's SUV all the way from somewhere in Germany near the Polish border. I however had slightly different thoughts. Lithuania is a long way away, and while I flew out and drove my Florida back from Munich it was a much safer bet to drive the 1000kms than the orange LT was. So instead, while several others chipped in on the thread with talk of purchase I tried another tack.
First thing was to find someone on our network who spoke Lithuanian as there was almost now doubt communicating the complexities of working differentials would be hard use Google Translate live face to face! Secondly I decided to stick the van up as a Uship auction to see how competitive prices would be to get the van driven back on a flat bed.
Andras, the owner of the super high top 4×4 LT featured on vwlt.co.uk, had a contact in Vilnius. Via a 3 way Facebook group message we contacted the vendor and started determining the status & condition of the vans. Yes, vans – turns out there are two! In fact there are 3 but one has already died. All 3 are in orange livery. Nice.
Things sounded good. So good in fact that when a Lithuanian haulier bid on my Uship auction and responded to my request for bringing both vans back on a flatbed with a discount, there was very little to stop David and me booking our flights!
The easiest & cheapest option was for us to fly from Stansted to Riga. I met David for the first time at the airport at 5am. After a short flight our plane descended through cloud, and lo-and-behold there was snow on the ground! Quite a lot of snow. David upgraded the hire car to a Land Cruiser! We took off for the border.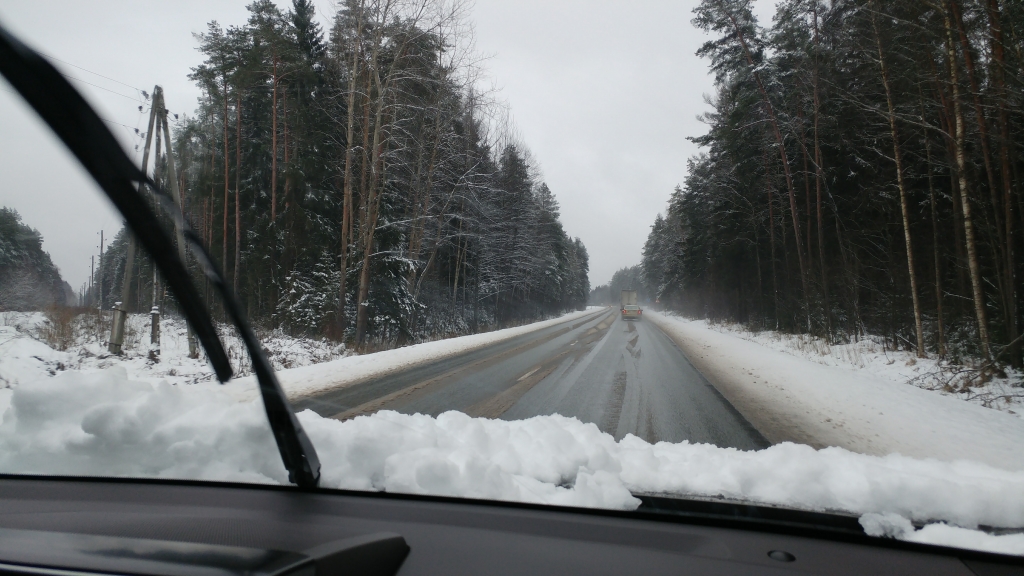 Thankfully the snow cleared, but as the roads gave way to snow packed sand and gravel we were very glad we weren't in a Daewoo. Although we'd dropped the pin in the map from all the way back in the UK our first stop was in fact at the wrong house!
We pulled up and knocked on the door – no response. We strolled round to snoop a couple of other houses and even tried to ask a local, but then as we decided to jump back into the car out of the freezing cold a not so friendly Lithuanian farmer appeared and started cursing at us through gritted golden teeth! David backed the Land Cruiser away promptly. So promptly in fact that we ran into his fence. This didn't help!
Thankfully without much further ado we realised where we'd gone wrong with our map reading and head off on the most crazy cross-country dash to the new location, and this time thankfully the vans were there to help direct us.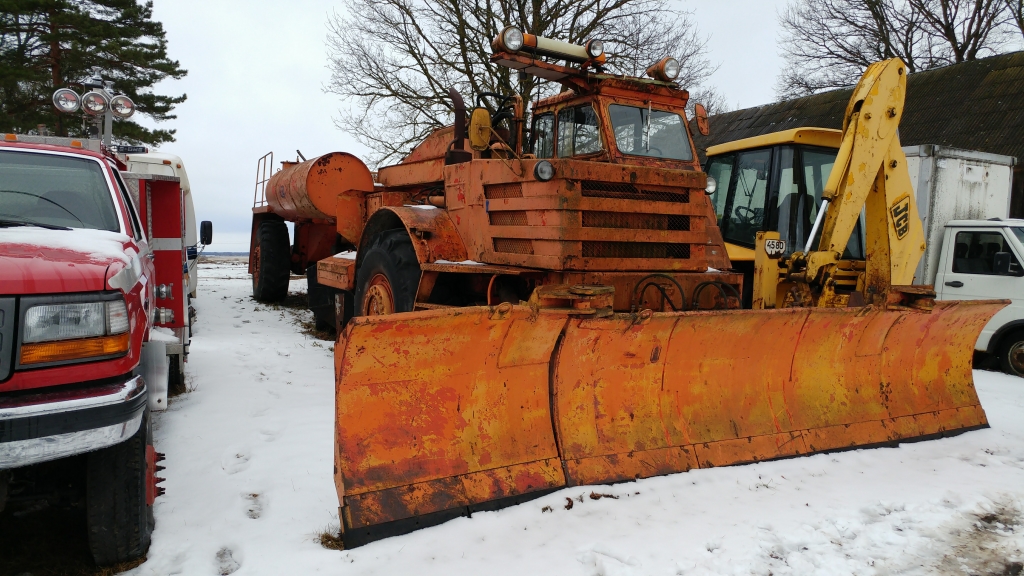 Ricardas's land was littered with the most amazing collection of vehicles. There were US fire trucks & ambulances, a 1963 Unimog (with a canvas roof on the cab), an airport snow plough, etc, etc. When we arrived he was working on a coach. A young lad & a girl approached, and he greeted us… in English!
Without further ado we set to inspecting the vans. We were provided with coach cushions and lay on the snow covered ground for a while. Both vans looked OK. One had what looked like very weathered paintwork halfway up the sides. The other had the rear sills on both sides pop riveted back on in a bodged repair attempt. Underneath the drive trains both looked pretty good, one with clear evidence of fairly recent attention to both axles.
There was nothing for it but a test drive… but did he misunderstand? Ricardas jumped into the drivers seat, and after the 2 kids jumped into the back of the van and with David and I on the shotgun bench we bumped off into the snow!
Ricardas clearly new and loved these trucks. What followed was an exemplary demonstration of the 4×4 capabilities of both vans. He found a snowy hill, got the van stuck and then began to demonstrate the four wheel drive capabilities and the functionality of the front and rear diff lockers. At one stage he even got out of the cab, and while the rear wheels were still spinning he walked round to check to see if 4WD was engaged! Amazing.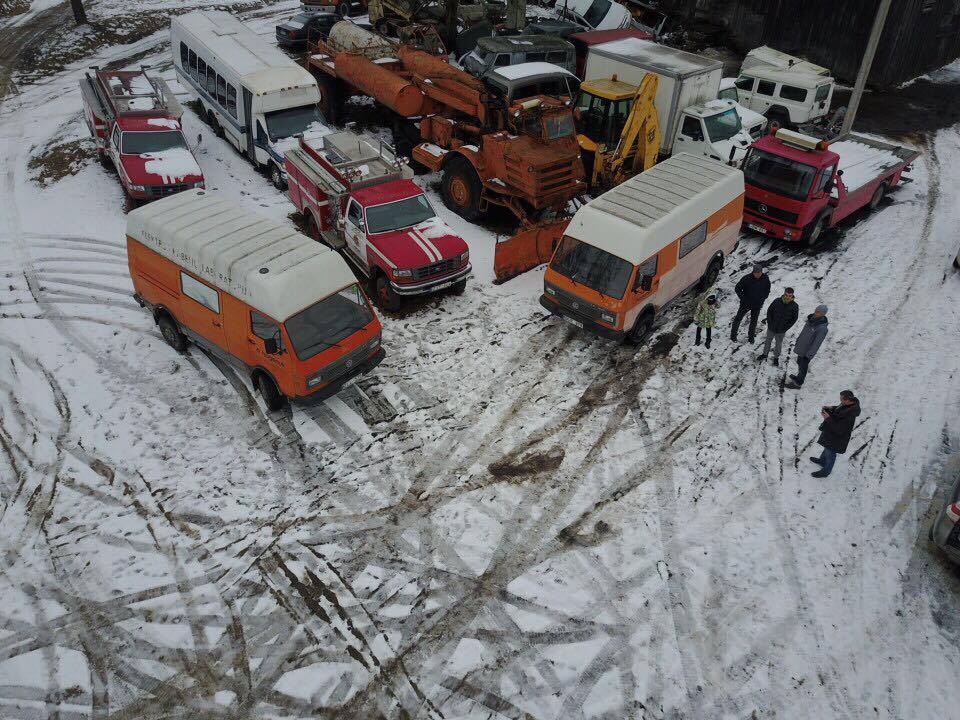 We haggled and agreed a price, shook on it, signed some paperwork, told him our plan for shipping, and said our farewells. Yup, we'd just bought two matching orange vans 🙂
The journey back was filled with fun – thoughts conversions and plans for adventure – so much so that at one point David managed to fish tail the Land Cruiser round a corner and got us very sideways as we headed towards some trees! Thankfully no damage was done, but maybe the extra insurance was worth while!
Stayed tuned for part two: A Mad Dash From Calais!