Although I'm sure most of us would like to own both and use each for their respective purpose the reality is that most of us end up with just the choice of one so this article explores the pros and cons of each of the VW LT 4×4 and VW T3 Syncro platforms and end up pretty much meriting both.
Thanks very much to all those that contributed to Jack Mac's thread here on the Facebook 4×4 VW LT group page.
It's tough to choose between an LT 4×4 & a Syncro, and inevitably comes down to your personal choice, experience and usage requirements. Although there are obvious similarities both vehicles are actually very different beasts. It also obviously depends on how well equipped each of them is. One owner might like the versatility of a Syncro, while at the same time really appreciating the full bathroom and off road capabilities of an LT. There is obviously a lot more to the argument though and this article attempts to explore this a little more thanks to some opinions of owners of both vehicles.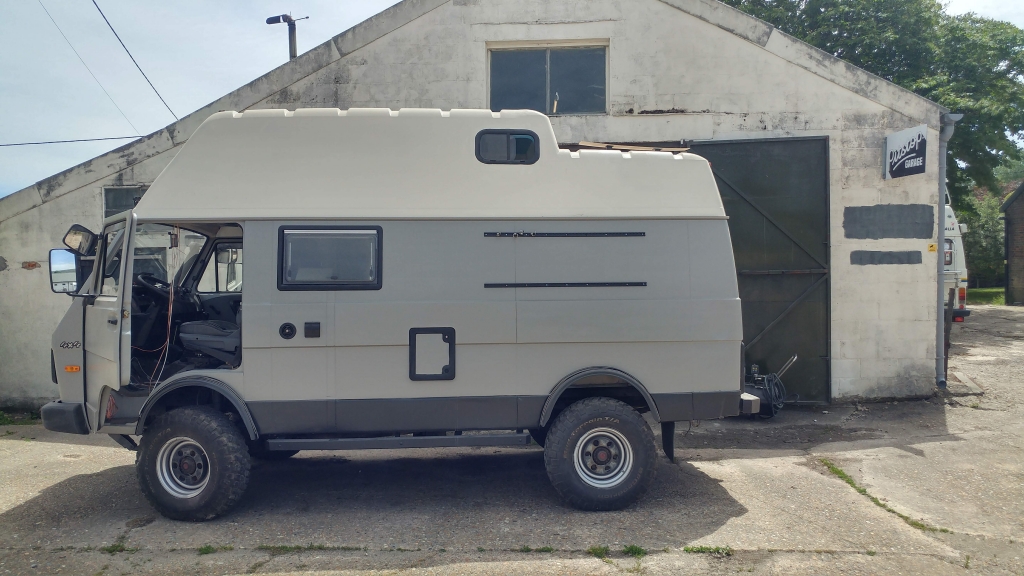 As the idea for this article originated on the world LT 4×4 Facebook page many personal experiences suggest that LT is overall more capable off road, with a caveat that this statement will depend on the terrain.
Another plus for the LT 4×4 is that it shares mechanical and body components with other vehicles around the world (engine with Volvo, transfer case with Jeep, body parts with Pegaso, MAN, Pinzgauer, etc) and therefore has (relatively) easier parts availability.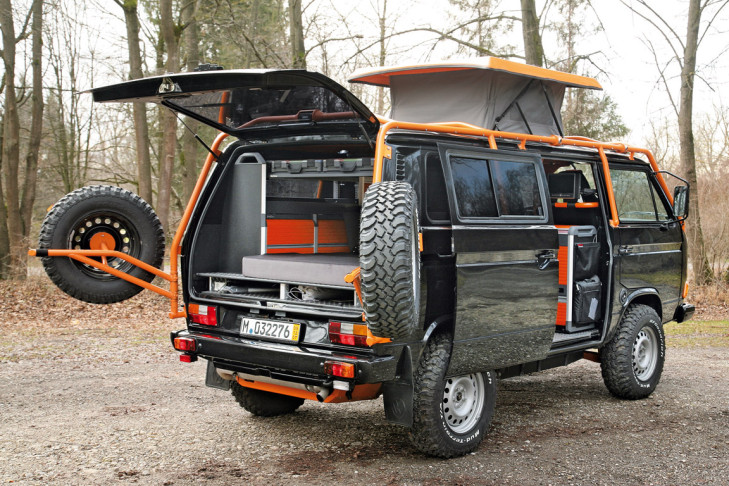 The space issue is often a reason for owners wanting to trade up from the Syncro to the LT but if you are more than 6ft tall you would still have trouble sleeping in a transverse bed across the back of an LT unless you fitted side pod extensions somehow. The counter argument to this of course is that you have to make your bed every evening in the Syncro
Then there's the look and/or stance. Some Vanagon (the US name of the T3/Syncro) owners want bigger and badder vehicles (camo coloured Sprinters and other such overlanders with huge bullbars) but it's true that you are less likely to get smile/waves/photos from people in such oversized beasties. LT 4×4's are still within this category and as they are rarer vehicles command as much interest, if not more.
As for parts Martin List-Petersen, long time VW LT 4×4 and previous T25 & T4 Syncro owner had this to say:
"Parts are easier found for an LT 4×4 than an T3 Syncro. While I don't have a T3, I have a couple T4 Syncros and the SWB T4 compares to a T3 in size. For full time living on the road, it would most certainly be the LT for me. Just not enough space in the T3/T4.
"The T3 Syncro is all specialized Steyr Puch parts. The LT 4×4 on the other hand has the 6cyl engine, which can be found it Volvo 7 and 9 series, Pinzgauer and other places. It uses the standard RWD LT gearbox and those exist in ton of numbers, it uses a NPN t-case which is found in the likes of Jeep Cheerokees, it uses Clark Hurth axles and shares its brake system with Mercedes G class vans. And all body parts then can be found in VW, Pegaso, MAN G90, Peterbilt Midranger and even the current VW Worker from VW do Brazil etc, who all where based on the LT platform.
"Volkswagen do Brazil still builds the VW Worker, which is largely based on the LT/MAN G.90 chassis/body.
And LTs were in production from 1975 to 1996, which a lot longer timeframe than the T3.
"Because the LT is build on rigid axles with leaf springs, it is a straight forward job to convert to other axles. Something you can not do with the T3. The 4×4 LT is essentially build like a lot of the US pickup and van 4×4 conversions."
He then went on to compare the LT 4×4 to the T4 Syncro:
"The LWB T4 is a different story. It's sufficient. As I stated, the SWB is comparable to a T3 space wise.
"And the T3 and T4 Syncros do have advantages, especially on bog trails with high median. Check this video:
"The T4 just ploughs through. A couple weeks later, I got the LT stuck here, as I beached it on the diffs. But it was still on the standard 7.5x16s. No problem after i changed to 9x16s.
The LT on the other side has the advantage, that it has both the crawl gear and then a full reduction for all gears. On this trail, the rigid axles of the LT become an issue, if you haven't added bigger tyres.
(LWB T4 Syncro. No difflock. But I still prefer the LT for space and living comfort.)
Then again .. you can't do this in a T3 or T4.. The suspension would collapse: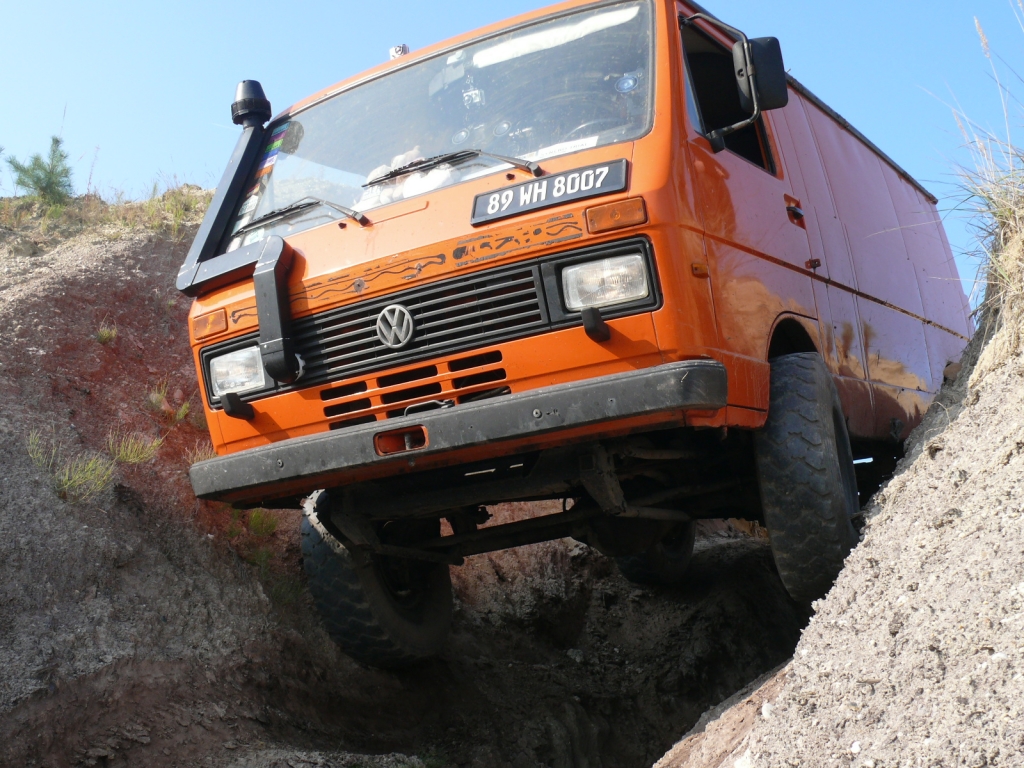 *Many smaller Vdub couples end up wanting to trade up when they start a family and this is the time that their eyes are opened to the possibility of the LT platform
Martin continues:
"The Syncro gearbox Steyr Puch specific. With the LT you can use the gearbox of a normal LT. Goes also for a lot of other parts. So the build years of the RWD T3s don't help the Syncro too much. Also a lot of the later SA ones have changed a good bit from the norm. The LT never really changed much overall.
"The drivetrain parts supply for the LT actually is bigger. You just have to know what you are looking for. And because the 4×4 LTs are not as common, that knowledge is not always there. You can't just take a t-case or gearbox out of any other vehicle and fit it to a T3 Syncro. For the 4×4 LT you just find a Jeep Cherokee or Chevy Blazer with the correct model number t-case and off you go. And because the t-case and gearbox are connected with a short prop, you can actually mate it with ANY gearbox/engine combo. Even a Commins or BMW engine. As long as it fits in the engine bay.
"As for the axles, there are 4×4 LTs sporting Clark Hurth axles and Dana axles from factory (the first 6 Sülzer were Dana). And both Unimog 404 and 406 have been retrofitted. Again.. bigger flexibility once parts supply dries up
So there is an argument for a smaller more nimble vehicle. There's plenty of space in a T3 or T4 Syncro for two to travel and sleep, especially a lwb, but you do have the switch between day and night involving a tetris like game between the 2 occupants!
They are great for smaller roads and cheaper ferry crossings. You do need to be smart about the interior layout but you can be clever and pack just as much gear, often with additional roof racks, boxes, bumper racks etc.
Some are less afraid of taking smaller vehicles places others wouldn't, but many smaller 4×4 owners have been to a places where an LT wouldn't fit off road so there are pros and cons here too.
Whichever platform you choose you're guaranteed to have fun.