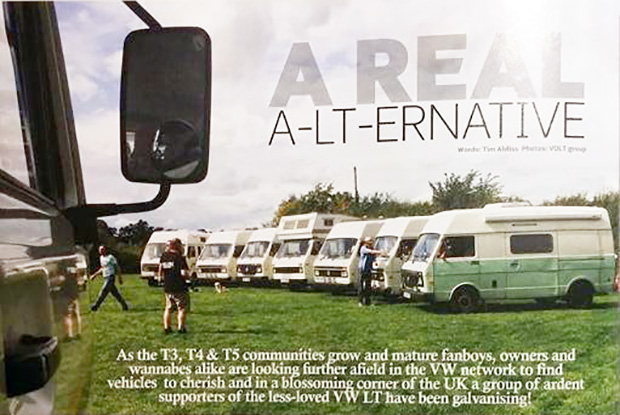 This article was originally published in the November 2015 edition of Ultra VW Magazine.
As the T3, T4 & T5 communities grow and mature fanboys, owners and wannabees alike are looking further afield in the VW network to find vehicles to cherish and in a blossoming corner of the UK a group of ardent supporters of the less-loved VW LT have been galvanising!
The LT Lasten-Transporter (or cargo transporter) is the big brother of the T25 and the first commercial vehicle VW produced. In production from 1975 to 1996 the mk 1 LT is now quickly becoming a sort-after classic.
Despite what some might call it's ugly duckling looks (we love it ed.) there's a lot to like about this van – features that are recognised well beyond the local community. For a start it's driving position is a delight. The engine sits in the middle of the cab which effectively makes it feel like a mid-engine vehicle! Sitting up and over the front wheels retains the classic driving feel of the kombi and helps the driver adopt the typical VW camper stance at the wheel! If you need to work on the engine you can do it come rain or shine as the access cowl opens up between the seats.
Then there's the side walls. It makes a perfect camper as the walls are vertical making it easier to attach furniture. It's also 6' 2" across on the inside so a transverse bed can accommodate even the taller gentleman (and his tall lady friend!).
There's much much more to talk about as the fan community will tell you, and if you make one of their regular meet ups you'll be able to do just that.
On one of the last sunny weekends in September in a field at the Lower Lode near Tewkesbury 15 mk 1 LT's met for some fun and games on the banks of the River Severn. Some might say it's a beautiful site although many may not, but they are nothing if not an eclectic bunch. However on this occasion the numbers boasted 3 of the same conversion – Westfalia's legendary Florida. Rarer and rarer these days and only ever imported in left hand drive format it was quite a treat to see 3 together.
The others ranged from Devon minibuses to other professional conversions (Advantura, Youngs & Nomad) and self–builds, some still a work in progress.
There were diesel and petrol representatives, a coachbuilt conversion (being completely re-converted), a twin-wheeled LT45 flatbed, some very low mileage late examples (1996 was the last year and there were 2 P reg vans here) and some high mileage original engine vans too.
One of our group lives in his van, others have been used as homes temporarily (!) and one had it's own matching trailer (caratrail as it's known).
Apart from the obligatory washing machine drum fire gatherings and genial chit chat in the evenings there was an archery contest, air gun rifle range, and races and competitions for the kids including trophies and medals.
But the main feature was to meet members old and new and to discuss our favourite hobby – our LTs.
It was Phil & Judith's first visit in their resplendent Westfalia Florida. Owners for 5 months they were still discovering it's facets. Following a 5 month trip round Scandinavia in their T3 Westy they decided that it was time to upgrade to something with a little more space and they were lucky enough to find a good example of one of the gems in the converted LT range.
At 60 Alan is now retired and has been living in his LT for the last 6 years. It's not your typical travellers van though as it's in immaculate condition inside and out, and it has a story to tell. The conversion was originally commissioned by Anita Roddick of Body Shop fame when her team needed to reduce travel costs but be able more to more easily haul products around the country. It was just the second conversion that celebrated conversion company Youngs did. Today they are still converting and their old LT's are much sought after.
The 2nd of the 3 Westfalia Florida owners was Ceri Dobbing and her family (inc. 2 growing boys who still love travelling in the van even now they prefer to sleep in their own tent). They'd completed an epic trip earlier in the year covering Dresden, Munich, Prague, Austria & Italy, but like most travelling central Europe this summer had found it unbearably hot as it reached 50 degrees inside the van at the peak of their trip. Their best recent mod was a SOG unit for their (DIY) cassette loo – essential with 3 men on board Ceri suggests!
Jill had possibly the nicest LT on show at the meet. She had only owned the van for 5 weeks and her head was still spinning with the joy of ownership! Her van is a late edition P reg converted by a firm called Nomad who are also still going today. The lovely clean, soft spacious interior was as comfortable on the eye as it was on the bottom. Previously kombi owners Jill was persuaded by a friend who owns a Westfalia Florida to go down the LT route and they are delighted so far.
Gareth was another new-coming to the LT meet, but not a newcomer to LT ownership as he is now on his 10th mk 1! And it was an untouched (if rather worn) Devon minibus conversion complete with seats and ramps. But this pride and joy could soon be replaced by his brand new toy – a stretched Kamperink conversion he'd only just brought back from Holland. Quite rightly (as you get to learn as an LT owner) Gareth hadn't quite yet got the feel of his new wagon and didn't yet trust it enough to drive down to Tewkesbury! We're longing to see this in the flesh next time.
As for the old guard – well it is of course lovely to see everyone again. Most of us had updates to share and of course there are the aspirations for further customisation and tweakery. Photographer/owner Russell Valentine always surprises, this time with original Devon documentation describing very specifically all the intricacies of his minibus; Tash & Matt passed by to chat about their epic drive down to Italy in their beloved Vera this summer; Tim, Archie & Lola had stories of a similar epic 6 week trip around France and Spain in their Florida (the 3rd example present); Chris Batey travelled down from Manchester, but only in his car + tent to pitch up and share his enormous knowledge. The holes in his chassis are apparently smaller than last year!
Watch a short video from the meet-up here.