We've just returned from a mad 1500 mile dash round France in the van down to Valence in the Drome to take a 3 night break at the villa owned by my best man Sam's parents.
It was a great break and despite the mileage we had great fun in the van. We survived the miles, the heat (34 degrees in the sun and 32 degrees in the van at the end of the day), the confined space, and the close proximity with Archie for such a long period.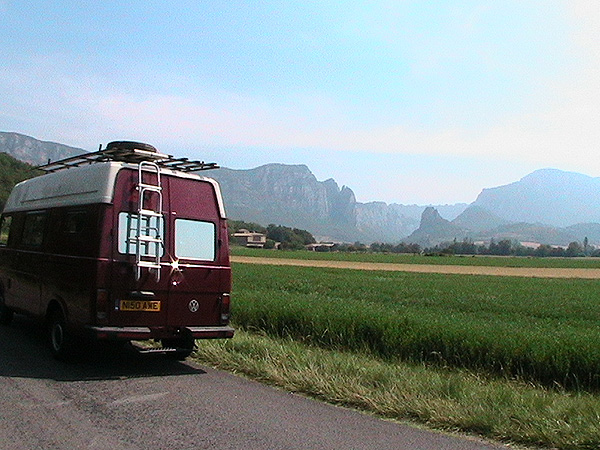 It was a rush to get ready. The van had recently been side swiped by a white van man while waiting to get it's MOT done so we decided to get that side resprayed to keep us looking respectable. So we'd driven it over to Dave's in Eastbourne earlier in the week and I had to pick it up after doing a day running a stand at a trade show at Earls Court. So I leapt on the train with a backpack full of brochures and a rolled up carpet on my shoulder and headed off to Eastbourne to collect. I digress!
With the van back the night before departure and looking shiny (on one side anyway) we started to load up what we could. I realised since we hadn't used the oven yet I had to burn it off for an hour while I filled up with water and checked over the mechanics.
I worked the following morning and returned at 1 to complete the packing. By 3 we were packed up, the cat fed and Archie installed in his car seat on the passenger side for the first of many long journeys.
The trip to Dover was uneventful, although I should mention that we still aren't 100% certain that the cooling system is working properly since we overheated on our first trip out of Brighton after the conversion. So with one eye on the temperature gauge and the other on the speedo (we maintained about 100 kmh/60 mph) we did the run to the port in 2.5 hours.
We'd shopped around for ferry tickets obviously favouring Newhaven – Dieppe but it turned out that the quickest crossing (1 hour) with Hoverspeed was the cheapest at £98 from Dover. It turned out easier to get to the Hoverspeed port and we avoided some nasty jams into the main car ferry access. We bought baguettes for dinner to eat on the catamaran and were first on and had a very calm crossing, which Archie seemed to enjoy.
1 hour later we were first off onto French soil and found easy access out of the port onto the peage towards Reims. We'd booked a campsite in advance due to the late hour, and found Camping Bal Parc at Tourneheim (10 mins from the peage) easily and pulled into the sunny, quiet friendly campsite. After a couple of small bottles of Leffe and some crying by Archie to celebrate his first night on French soil we made up the bed and settled down for the night.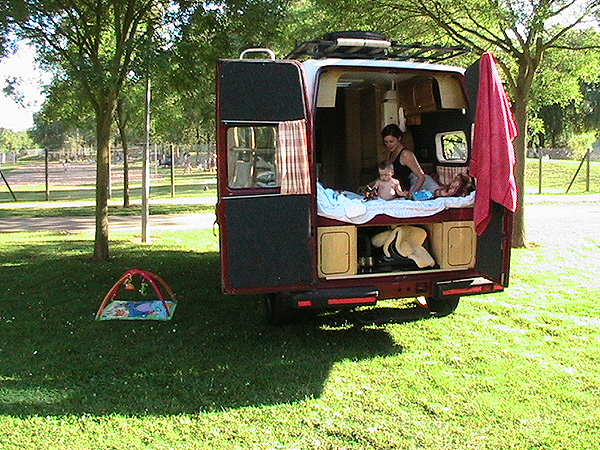 The next morning I returned the beer bottles and paid joking saying 'la meme encore'… She didn't get it and reached for 2 more bottles! (bit of a lack of a sense of humour in the north of France). Archie's bed is made up in the cab and can be screened off but is certainly not soundproofed so we were off to a fairly early start the next morning as indeed we were most days.
We stopped for cheap diesel early on the Autoroute Des Anglais and bumped into a couple who thought we'd pinched their van as they too have a red LT with a white high top back at home! We had to move on though and made it to Reims for lunch, facilitated after a quick shop by knocking up baguettes on my newly added fold out chopping board!
Having picked up a good free campsite guide from the tourist office in the shade of the wonderful cathedral we plunged on into the south of Champagne to a campsite just south of Vitry Le Francois in a secluded little village called Luxemont-Et-Villotte. We pulled into this quiet grassy site at about 4 and set up full camp with the awning up and the camp table and chairs out for dinner. It was hot tonight and we missed the threat of mozzies resulting in inevitable bites for me, but we had a lovely evening bathing Archie in a washing up bowl on the grass, talking to our neighbours and drinking French wine.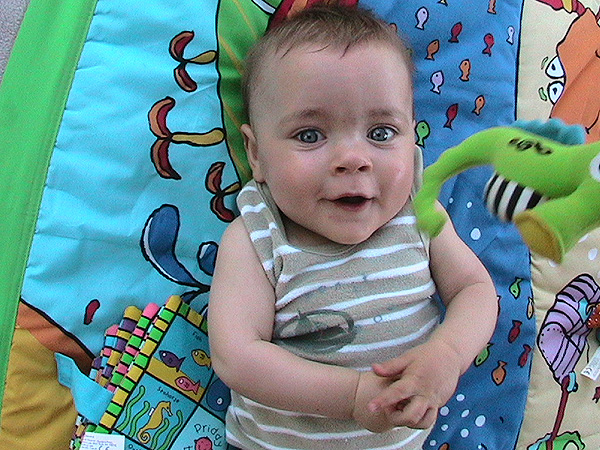 The following day was a real haul South. Determined to cover as many miles as possible we plunged on down the peage notching up more costs on the credit card, but the peages are sometimes the best option. We made it as far as Villefranche-sur-Saone where there is a municipal campsite 5 mins off the motorway called Plan D'Eau, next to a lake and under some shade. We pulled in at 6 and the van remained hot until well after dark (11). When we put Archie down it was still 32 degrees, but we made the most of the evening eating in the sites' outdoor restaurant and enjoying some lovely cold 'pression'.
The next day was Monday and the start of a lovely three day break in a proper bed (a relief as we could at last stretch out even if we were getting used to the bed in the van. We ate and drank well and shared the company of good friends that France is so good at hosting. Sam was an Oddbins fine wine buyer and has an extensive cellar in France that he was generous with and we were able to give Archie his first swim in their lovely swimming pool.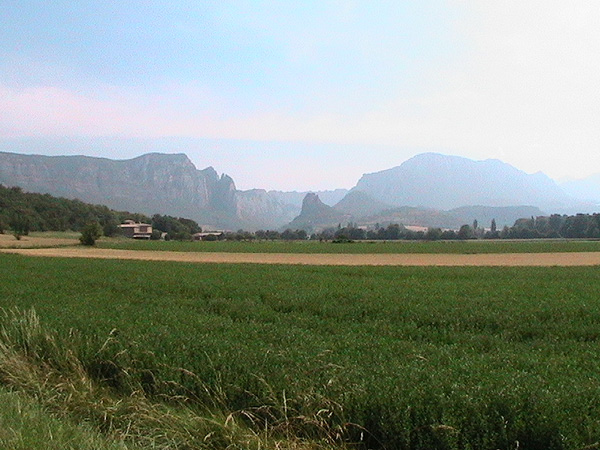 I spent some time planning our route back and since we had an extra day to get back we decided to cut across the top of the Massif Central to St Etienne and Clermont Ferrand and take the same peage north that we did on our honeymoon 7 years previously. So we wound on up through the hills keeping a close eye on the temperature gauge as we crawled as slow as 40 mph on the steepest hills. But some beautiful landscape saw us safely through to the central plains and just north of Clermont Ferrand and 200 miles later we pulled onto site in the little spa town of Chatel Guyon.
We pitched up next to a nice English couple who we chatted to briefly. We completed our usual bathing and showering activity and zonked out with a few cold beers before deciding to stroll into the pretty town centre where we stopped for another cold drink in the atrium of the casino where there was a queue for a tarot card reader. Another hot night.
Next morning was an early start. Again we made straight for the peage to complete another 200 mile journey to a place I'd read about in the Rough Guide just along the Loire to the west from Orleans called Beaugency. We broke the journey for coffee and lunch at shady Aires on the peage and arrived in Beaugency at around 4. We paused for a moment to contemplate staying over in an Aire de Camping Car on the north bank. We decided we needed some more outdoor space and fancied a shower outside of the van and drove across the old bridge over the wide run of the Loire to the campsite on the opposite bank from the Aire. This was a lovely open peaceful grassy site with good clean facilities, which were appreciated.
We decided we deserved dinner in town (also in order to keep the van cool) and set off before Archie's last feed across what we discovered was a bug infested crossing that would be even worse on our return. However we were happy to see so many swallows diving to enjoy munching up as many bugs as they could until nightfall.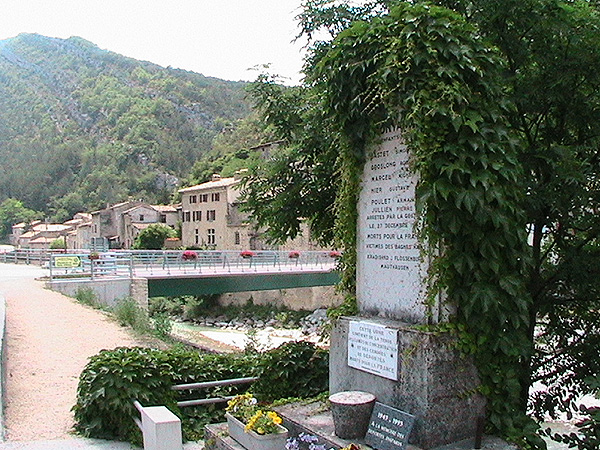 Dinner was average but in a lovely location in this pretty little town. We managed to pick a restaurant that was frequented by parents with kids and mum even chatted to another English couple with a young boy of Archie's age. We staggered hurriedly back across the bridge but our idea of relaxed viewing of the floodlight riverbank was marred by an insect plague in the van! It seems our temporary mozzie nets had small enough gaps to let through a swarm of mini midges. A massacre ensued but there were new bites in the morning.
Our penultimate days journeying saw no miles done on peages. Instead we chose lovely open national roads north around Chateaudun, Chartres, Dreux and Evreux, stopping for lunch by a ruined abbey just east of Rouen, near Les Andelys. After lunch we stopped for a stroll around a large village fair before rolling onto our booked campsite in Neufchatel-en-Brie near Dieppe. Being from Brighton we did check the cost of a single fare back to Newhaven from Dieppe but it would have cost atleast £100 more despite it costing more in diesel to drive via Dover. Shame as we were now only a few miles from Dieppe.
The campsite (St Clare) was lovely. Again a well-kept grassy site. We were followed on site by a Dutch couple with a caravan who pulled alongside, and soon there were a couple more VWs on site, one a young English surfing couple who had driven down from Lancashire that day.
Now we weren't really concerned that there were so many tents pitched up but when about 100 lads turned up from a long boarding tournament we got worried and all of us decided to move to the quieter end of the campsite!
It was another peaceful night. We enjoyed showers in the van and had an easy cook pasta and salad dinner so as not to warm up the interior of the van too much.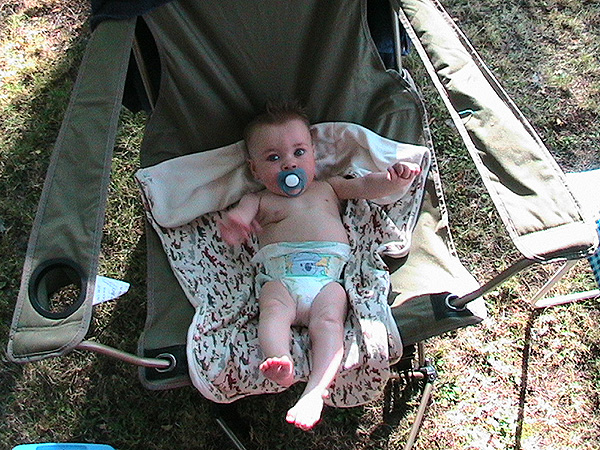 Sunday was our last sprint back to the port. Off by 8.30 we plunged on into the grey north eventually pulling off the peaage at Le Touquet to look for diesel as the needle was well into the red. It being Sunday only automated garages seemed to be open and none of them took our cards. We decided to get back onto the peage becoming increasingly worried as the needle moved nearer the empty mark. Then with only 3km to the next Aire with diesel we were defeated by a steep hill witch meant that the little diesel we had left ran back into the tank and the engine eventually died!
Now I wasn't aware that you had to use the emergency phones on French motorways and that the local departments recovery vehicles would come and rescue you and only found this out from Europe Assistance after getting their number from our UK recovery line. Not only this but they charge the night rate for Sunday recovery and even though he arrived promptly in vingt minutes so that Archie and mummy didn't have to wait too long behind the crash barriers it cost us £100 for a lousy gallon of gazole! (those of you who are interested will be pleased to hear that I wore our new regulation reflective jacket while putting out our warning triangle on the hard shoulder!)
Luckily we had time before we had to make the ferry… Or at least we thought so! It wasn't until we'd filled up at the next petrol station that we checked our return ticket stub to find out that we barely had enough tine to get to the port let alone stop at a hypermarket for booze for Archie's first birthday! Yup the ferry I'd booked was 2 hours earlier than I thought!! So we hammered on the last few miles and found that luckily, and as at Dover, the Hoverspeed port was the easiest and nearest to get to.
As soon as we pulled into our lane on the docks (and after a quick inspection for migrants) we were ushered into the holds and off we went.
A bit of a rushed ending to the holiday but nevertheless pleasant to get home earlier than we thought we'd be, and to also not be faced with traffic jams on the M25.
1500 in 9 days – not bad for our first trip out in our old van. But then again she is AWEsome!